An experienced legal answering service can be a powerful tool for improving your firm's business and the client experience. It can help reduce missed calls, increase lead capture, schedule client meetings, and generally free up your time.
In other words, with the help of a legal answering service, you can focus more on what you went to law school for—practicing law and helping your clients. It can even foster a better attorney client relationship.
To fully maximize those benefits, you'll want to know how to choose the best answering service for lawyers. Different firms may want different benefits from a phone answering service for lawyers, so it can help your search to make a list of your top priorities for any service you choose.
If you're looking for the overall best virtual receptionist for law firms, we recommend that you select a service with the following qualities.
#1 Live Phone Coverage 24/7/365 with the Potential for Scalability
Having well-trained virtual receptionists who can always take customer calls can help you maintain your client base and improve the customer service experience. Experts agree that a fast response time can improve customer satisfaction.1 
Additionally, consistently positive experiences with a company can build customer loyalty.1
Lawyers typically look into hiring a legal answering service because they want one or more of the following benefits:
Someone to act as a receptionist and answer all general incoming calls throughout the work day

Someone to take overflow calls during the work day when their in-house receptionist is on a call or otherwise unavailable

Someone to take calls after business hours to ensure their clients can immediately speak directly with a human every time they call
While you may only want one of those services right now, we recommend starting with a service that has the capacity to offer all three. That way, as your practice grows over time, you can easily scale up without wasting time hunting for and adjusting to a different vendor.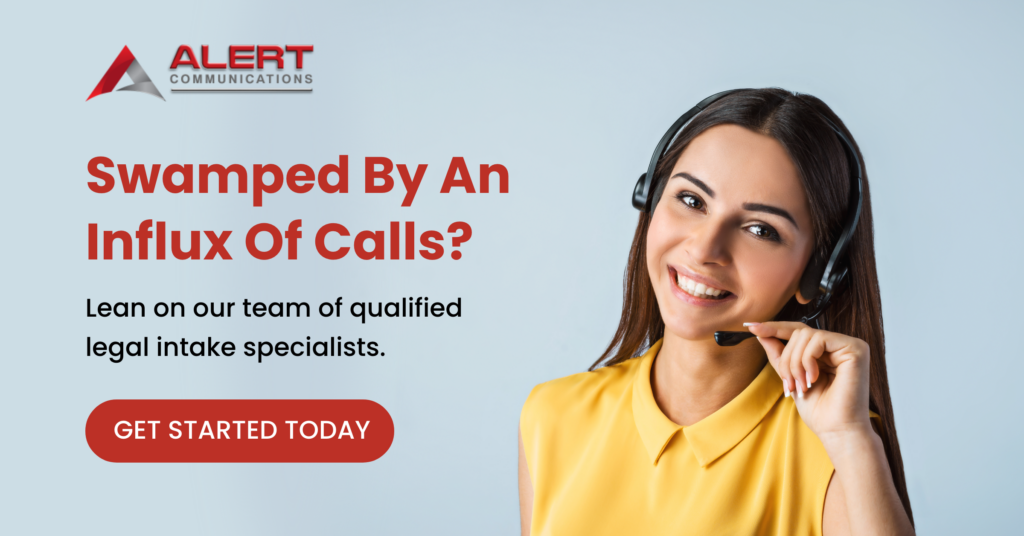 #2 Bilingual Answering Service
Seeking legal support for the first time can feel sometimes intimidating for potential clients. Trying to seek that support in another language can make the process even harder and potentially open the door to client-receptionist miscommunications. 
That's why we recommend you aim for a legal answering service that offers Spanish-language support, as well as English. About 41 million people in the U.S. speak Spanish as their first language. That's roughly 13% of the population.2 
Choosing a bilingual legal call center can improve your customer service for Spanish-speaking clients. In turn, this can help you expand and retain your existing client base. 
Bilingual services can prove especially important for lawyers who practice:
In a geographic location with a high density of Spanish-speakers

In a legal area like immigration law where you might be more likely to encounter clients whose first language is Spanish
From both a revenue standpoint and a customer service standpoint, selecting a bilingual legal answering service often makes the most sense.
#3 Live Transfers and Call Routing
Many professionals know how difficult it can be to balance staying accessible to your clients with trying to build healthy work-life boundaries. You don't want to miss an important client call, but you also deserve a chance to truly rest and recharge after a long day.
To address that challenge, we recommend you try to choose a live answering service that offers live transfer and call routing. 
Here's how it works:
The legal call center transfers any calls classified as

urgent

directly to you or another designated person on your staff so that you never miss a time-sensitive call.

For non-emergency calls, an empathetic and skilled intake specialist takes the call, which protects your time while also offering your client a positive customer service experience.
When applicable, a call center can even directly schedule an appointment for that client to speak with you at a later date. 
#4 Appointment Scheduling
As anyone who's sent five emails just to schedule a single meeting knows, managing your calendar can eat up more of your professional time than you'd wish. For a lawyer or law firm, that loss of time can mean a loss of revenue. 
That's why the best answering services for lawyers offer appointment scheduling on your behalf. 
They can free up more of your time and resolve scheduling issues quickly for your clients by:
Scheduling new appointments with current and potential clients

Managing client requests for schedule changes

Blocking out the correct amount of time for intake consultations so that they stay efficient

Providing daily updates about any changes to your calendar

Making sure the items scheduled on your calendar don't conflict with each other
It sounds simple, but delegating some of your calendar management to a legal call center can help improve both your professional time management and your clients' customer service experience.
#5 CRM and CMS Integration
A legal answering service can also save you time if they offer customer relationship management (CRM) and case management system (CMS) software integration. 
When a company offers this service, their virtual receptionists and legal intake specialists can:
Send files with relevant data directly to your software after every phone call with a client or potential client.

Create efficiency through scheduled files that contain information from multiple new clients and can populate more than one record at a time.
CRM and CMS integration services can save you time while also keeping client data up-to-date and helping you access the exact information you need.
#6 Highly Trained Answering Team
It takes training, experience, and industry knowledge to provide excellent customer service.1 That can prove especially true in a highly technical and specialized field like law. 
When considering various remote answering services, we highly recommend you look for:
Legal specialization

– A law firm receptionist requires a different knowledge base than a general office receptionist. An answering service that specializes in legal services can guarantee your clients speak with someone qualified to support your firm and your specific client base.

High levels of training – In one survey, customers rated talking to a knowledgeable employee as one of the top three factors in a positive customer service experience.1

A legal answering service that thoroughly trains its employees can help ensure higher levels of customer satisfaction. In addition, it can help you avoid the type of mistakes that result from high employee turnover paired with insufficient training.

A long-term track record

– When you hire a legal answering service, you're choosing someone else to represent you and your practice to potential and current customers. That requires a certain level of trust. When evaluating different legal call centers, consider their history and track record. 
All things being equal, it's generally safer to choose a legal answering service that's been reliably serving clients for decades, compared to one that's only been around for a year or two. 
Look for an answering service with a long record of highly trained employees who understand how best to support both law firms and their clients. Doing so can help you find the best virtual receptionist option with ease.
#7 Reporting & Analytics
The client intake process can generate important data to help guide a firm's business decisions and increase revenue. However, you first need to comb through high volumes of data to determine the relevant metrics. 
A legal answering service can help you record and identify metrics like:
Number of calls received

Outbound calls placed

Chat response times

Calls resulting from a given marketing campaign

Call duration

Call outcomes

Lead intake notes
Having data like this at your fingertips can help you decide where to invest your resources in order to maximize revenue, customer satisfaction, and growth opportunities.
#8 Supplemental Services
In addition to the above benefits, some legal answering services are part of a company that offers supplemental legal communication services. 
These services might include:
Live chat and text services

Marketing and advertising

Web design services

Intake services

Virtual assistants

Contract and retainer services

Mass tort services
While some of these services may seem superfluous for your firm's current needs, browsing through a service provider's offerings could help you decide between two companies of an otherwise similar caliber. 
In addition, you could unexpectedly end up needing more services than you anticipate. If this happens, it's more efficient to hire the company you already know and trust to take on some additional work, than spend time and financial resources contracting with new, unproven companies.
Alert Could Be the Best Legal Answering Service for You
Trusting your phones to the aid of an answering service means handing over the keys to one of your most critical contacts—your clients. For lawyers, this means finding the most reliable and versatile legal answering service is of paramount importance.
At Alert, we firmly believe in the importance of every service and benefit listed in this article. That's why we offer every single one of them. 
Founded in 1965, we have over 5,000 active customers, over 100 million calls answered, over 25 million cases opened, and over $100 million in revenue created. 
With those kinds of results to back us up, we're proud to say we have the experience, dedication, and resources to meet your needs as a legal call center.
Sources: 
Forbes.

How To Create A Memorable Brand Moment Through Customer Service.

https://www.forbes.com/sites/forbescommunicationscouncil/2022/06/10/how-to-create-a-memorable-brand-moment-through-customer-service/?sh=33b3fe2e5853

BBC.

Why Spanish speakers in US are getting into trouble

.

https://www.bbc.com/news/world-us-canada-44201444