What legal industry digital trends can we expect in 2023?
Identifying trends can empower teams to make changes and preparations. Adaptability and agility are essential to accommodate sudden changes in the market or resources.
Here are three trends to watch for as legal teams and what options are available to you to get ahead.
Relying on remote workers and outsourcing
Since the emergence of COVID-19, legal teams, like many organizations, have relied on digital solutions to continue operations. This includes employing remote workers. In 2023, countless law firms are continuing to outsource to fill coverage gaps.   From document reviews to call answering, outsourcing is expected to be relied on heavily by lawyers across the country. As noted in a 2022 Law Department Management Benchmarking Report, insourcing accounts for a significant portion of legal spend. 1 With 45 percent of the work force in America operating remotely, it is predicted that outsourcing virtual workers and managing cases remotely will continue as a trend in the legal industry.
Utilizing tools for streamlined communication
One of the ways law firms will step further into the digital world is by relying on new virtual solutions and messaging services. This includes exploring tools and software to communicate with clients. According to a 2022 Innovation Trends report published by the American Bar Association, improving client communication is going to be a primary focus for legal teams in 2023. 2 The report states that more legal teams will invest in online tools to remain competitive. As noted previously, while some attorneys may invest in high-tech software to facilitate communication, others will outsource staff members to streamline interactions. This includes employing call services. The report indicates that attorneys who outsource and offload administrative tasks have more time to focus on the "nuanced legal needs of their clients".
A virtual answering service is one way legal teams close gaps and better meet their clients' needs.
Managing legal cases remotely means investing in technology
One of the technology trends for law firms is becoming a smart firm. That is, legal teams will continue to embrace automation and technological processes. With the increased reliance on technology, legal teams will also prioritize cybersecurity. From intake calls to invoices, an increased openness among business owners to remain agile in the face of automation and technology can "increase productivity and profitability." 3 Attorneys will continue to look towards case management software to centralize data, improve the client interactions and increase efficiency.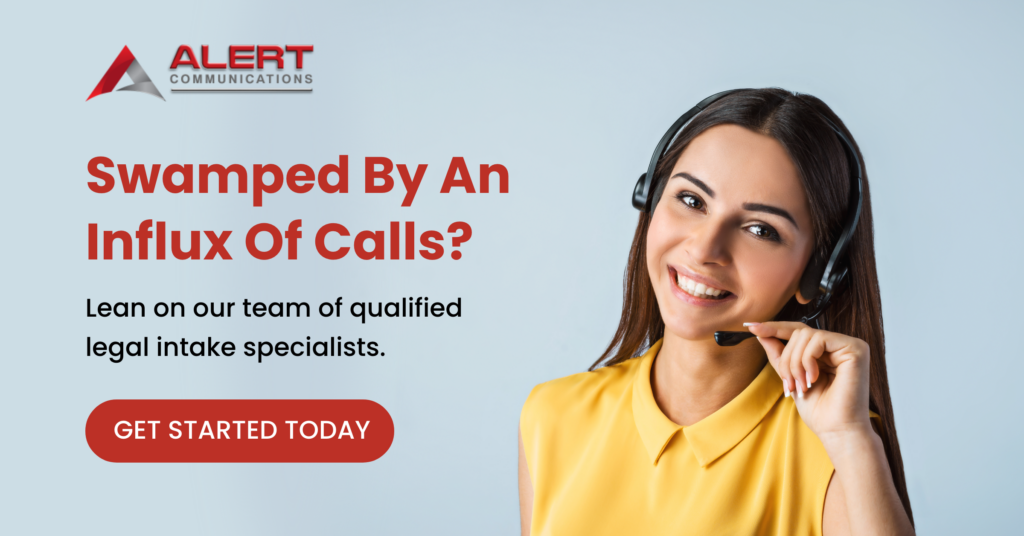 Alert Communications offers solutions with virtual receptionists
Lawyers who are considering outsourcing for a receptionist can benefit from going virtual with a call answering service. At Alert Communications, we provide virtual receptionists experienced in the legal industry. Our receptionists offer answering services in both English and Spanish. With a live person answering calls, texts and chats 24/7, law firms across the country have greatly improved their return on investment and increased conversion.
We also offer retainer services, web design, marketing and customized reporting in addition to our call services. If you need back-end administrative support, our virtual team is there to help.  We also specialize in assisting with high volume businesses, including mass tort and class action firms.
Get in touch
Start identifying opportunities, improving return on investment, and increasing conversions. Partner with Alert Communications by calling 800-211-4563 or contacting us online.
Sources:
[1] Legal Drive. Recent trends make the case for digitizing legal matter management.
https://www.legaldive.com/news/trends-digitization-legalmattermanagement-inflation-corporatelegaldepartment-legalservicerequests/633481/
[2] American Bar Association. Innovation Trends Report 2022.
https://www.americanbar.org/content/dam/aba/administrative/center-for-innovation/aba-cfi-innovation-trends-report2022.pdf
[3] JD Supra.  ABA's Innovation Trends Report: What law firms should know.
https://www.jdsupra.com/legalnews/aba-s-innovation-trends-report-what-law-9284047/