There are over 1.3 million lawyers in the United States.1 Yet, contacting one after normal office hours can feel surprisingly difficult. Some people may recommend you stick to reaching out during the lawyer's business hours. But if you're facing a legal emergency, or you tend to be occupied during a law firm's business hours, it can help to know what other options you have.
Knowing how to find a lawyer with a relevant practice and how to contact a lawyer after hours can help you find the legal service you need. 
Fortunately, it could prove easier than you expect. Many lawyers invest in a 24/7 legal answering service to make sure there's always a trained human available to take your call and guide you through the next steps for receiving legal support. Ahead, we'll walk you through the process of finding the legal support you need, no matter the time of day.
#1 Find a Lawyer that Practices in the Location and Field You Need
Above all else, finding a lawyer who can help you first requires that you locate a lawyer who is licensed to practice in your state and who specializes in the area of law you need.
Who should you turn to for legal advice and legal assistance when it comes to domestic violence, car accident, insurance company fraud, and other legal concerns? Should you file criminal charges for your legal problem? To start, take a look at these common areas of law to see what category your situation may fall under:2
Bankruptcy law

– This area of law deals with people and organizations that have become insolvent. Because this legal category relates to the constitution, it primarily falls under federal law. However, state laws can affect what bankruptcy procedure looks like in your home state.

Business and corporate law

– This covers all legal aspects of administrations and corporations, from formation to dissolution and everything in between. While some corporate lawyers work in-house for a single company, others take on various business clients.

Civil rights law

– Lawyers in this field may work on cases involving discrimination or other unfair practices that infringe on an individual or group's constitutional rights and liberties. Cases may be about free expression, employment, housing, education, and other entitlements.

Criminal law

– Criminal defense lawyers help defend people accused by the government of engaging in illegal behaviors. 

Entertainment law

– Primarily relating to intellectual property law, this legal area centers around rights and royalties issues in the television, cinema, music, arts, and sports industries.

Environmental law

– Environmental lawyers can represent government agencies, advocacy organizations, or individuals in cases involving pollution or natural resource management. They can also practice in some areas of public health or land disputes.

Family law

– This area covers legal relations between individuals within a family, and can include child welfare, adoption, legitimacy, civil unions, and marriage issues.

Health law

– This focuses on any legislation related to practicing, receiving, or paying for healthcare.

Immigration law

– This area covers immigrants seeking refugee status, asylum seekers, and anyone attempting to move through the stages of the naturalization process.

Labor and employment law

– This area covers relations between workers and employers on subjects like wages, harassment, and discrimination. It also covers unions and collective bargaining.

Personal injury law

– This covers intentional or unintentional wrongdoing that could result in an individual's physical or psychological injury, including workplace injuries, medical malpractice, accidental collisions, and wrongful deaths.

Real estate law

– This legal area involves land or construction ownership, litigation, and development, as well as tenant rights and landlord disputes.

Tax law

– This legal area covers domestic and international transactions and typically involves both tax issues and helping clients reduce fiscal liabilities.
Once you know what area of law the issue you desire help with falls under, you can look for lawyers and law firms licensed to practice in your state that specialize in that area  for the right legal representation. 
If you don't know for sure what area of law your issue falls under, make your best guess and reach out to a relevant law firm. They can then let you know if it's a good fit or redirect you to a more appropriate area of law.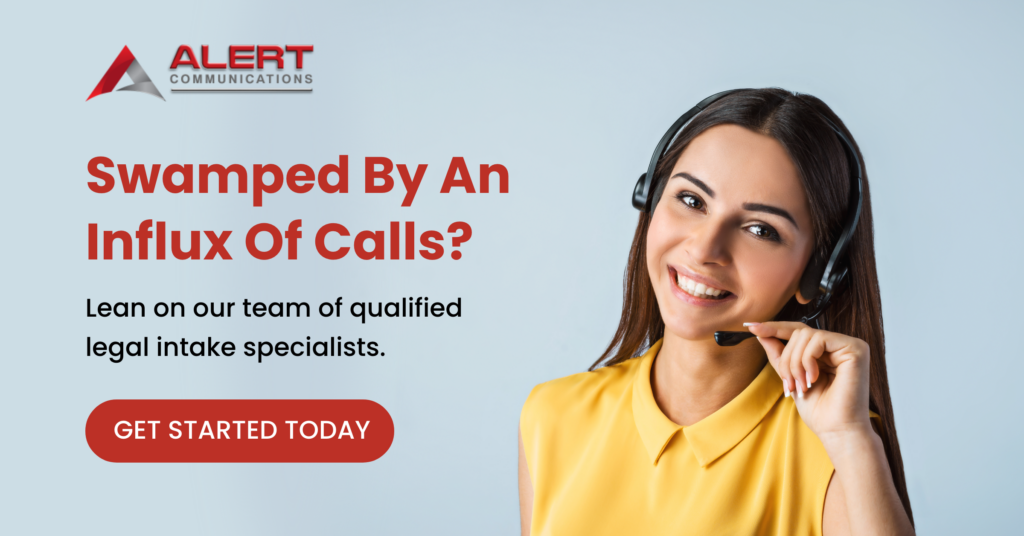 #2 Determine the Best Method of Contact
Most law firms and individually practicing lawyers have a website describing their services. That website should list the best ways to contact them, which often includes an email or phone number.
Phone
A phone number is often the fastest and most direct way to contact a lawyer. That said, if you call a lawyer or law firm after hours, you'll typically reach one of the following: 
A voicemail

– If you reach a voicemail, leave a message saying you're potentially interested in using their service and would like to schedule a phone call or meeting to discuss if they could fit your needs. Then leave your contact info, slowly and clearly. If they don't return your call within a few days, you might consider calling them again, reaching out via email, or trying a different law firm instead.

A legal call center

– If the lawyer or firm uses a

legal call center

during their off hours, a remote receptionist will answer when you call. Typically, such receptionists can confirm if your legal issue matches the firm's area of expertise and then help you with the next steps. This may include scheduling a meeting with a lawyer to discuss your case in more depth.
Email
Reaching out via email can sometimes benefit you if you'd like to describe your case in written detail. A lawyer or law firm may also list an email address you can reach out to after hours. 
Email can prove an accessible option if you:
Dislike speaking on the phone

Work during typical office hours

Prefer to have a written record to reference
Your email should let them know you're considering using their legal services and briefly describe your circumstances. Then, you can request to schedule a phone call or meeting to discuss if they're a good fit for your needs.
Personal Communication Channels
If you search for a lawyer online, you may happen to come across a lawyer's personal contact information. But it's best not to reach out via an unofficial channel unless you already have a genuine personal relationship with that lawyer. 
Even then, to ensure the information you provide stays private, limit the message to telling them you're interested in their professional services. Then, ask them how to go about scheduling an official meeting with them through their firm.
What If Your Lawyer Has Social Media?
Some lawyers may have personal or professional social media accounts. For example, an immigration lawyer may have a Twitter account where they share news articles about issues affecting immigrants. 
It may feel tempting to reach out to them on social media if their office has closed for the day. After all, everyone's always on social media—right? 
However, communicating via social media can open up privacy concerns. It can also make a lawyer less likely to take your case if they don't check their messages regularly, or if they feel you've violated a personal or professional boundary.
These guidelines can help you navigate how and when to contact a lawyer over social media:
Professional social media

– If a lawyer has a professional social media account created to promote their legal services, you can reach out to them on social media. However, keep in mind that social media communications can be less private. We recommend limiting your question to asking them how best to get in touch with them to discuss their legal services and your case in more depth.

Personal social media

– If a lawyer has a personal social media account created so they can keep up with friends and family, do not reach out to them over social media. Doing so can violate a professional boundary and may make them less likely to want to work with you.
In either case, it may prove more efficient to find their legal website yourself and follow its communication recommendations.
Lastly, always double-check a lawyer's geographic location before reaching out. A lawyer may seem brilliant on social media, but if they practice in New York and you live in Louisiana, they may not be able to take your case—even if they take your call.
Why a Legal Answering Service Could Make Your Experience Smoother
As we mentioned earlier, when you call a lawyer after hours, you may end up speaking to a remote receptionist from a legal call center, also known as a legal answering service.
What does that say about the type of service you'll receive at that law firm? And what exactly does a legal answering service do? 
The exact services offered may vary depending on which answering service company a law firm uses. However, a reputable legal answering service typically:
Answers a law firm's phone line—either 24/7 or when the law office is closed—so that clients and potential clients can receive immediate support. The receptionist can assist with call routing, meeting scheduling, and any other next steps to help you contact your lawyer.

Trains their remote receptionists to confirm whether or not a potential client's legal needs match the firm's areas of expertise.

Offers bilingual answering service in Spanish and English to support more clients in their preferred language.
Some legal answering services even offer live chat and text support to assist clients who prefer written forms of communication. 
Essentially, a legal call center takes on some of the firm's client communication work so that the firm's lawyers can spend more time focusing on your case, and less time scheduling meetings. Basically you can devote more time and resources improving law firm customer service.
The bottom line is that if you reach out to a law firm after hours and end up talking to a receptionist from a legal answering service, you can relax. They'll be able to listen to your issue immediately, represent the firm's services accurately, and help you contact a lawyer at the firm.
Trust Alert to Improve Off-Hours Customer Service for Law Firm Clients
Life doesn't slow down because business hours end. Using a legal answering service can help both current clients and potential clients reach your firm, no matter the hour. 
At Alert, our well-trained staff can help lawyers reduce missed phone calls, capture every lead, and provide 24/7 support to your clients. We offer Spanish language support, appointment scheduling, and live call transfer. 
We'll simplify and improve your customer service system so that you can focus on what matters: assisting your clients with their legal issues. 
Sources: 
American Bar Association.

ABA Profile of the Legal Profession

.

https://www.americanbar.org/content/dam/aba/administrative/news/2020/07/potlp2020.pdf

 

Brown University. Fields of Law

.

https://www.brown.edu/academics/college/advising/law-school/fields-law/fields-law