Attracting more leads for your law firm doesn't necessarily have to cost you time, sleep and other valuable resources. Generating new leads at your injury firm can be as simple as identifying and removing common barriers in mass tort case administration.  
Here are some of the challenges in mass tort administration and the lead generation strategies that can help you to overcome them. 
Why are mass tort cases so difficult to administer?
According to a JD Supra article, many mass tort administration challenges involve communication, cost and case development.¹ With a large number of plaintiffs and limited resources, personalized yet widespread communication can be challenging. Ethically, attorneys cannot leave their clients in the dark, but large client volumes without the proper infrastructure can be detrimental.  
The sheer cost involved in litigating mass tort cases is typically intimidating and challenging. Proper resource allocation and specific technology can reduce costs as needed. The weight mass attorneys bear is more than the financial cost, though. Mass tort litigation can take time and perseverance, requiring sometimes tedious discovery processes. These administration barriers often affect a firm's ability to attract leads. When a mass tort law firm does not properly administer cases, it damages its reputation and ability to get more clients.  
3 ways to minimize injury case administration and increase leads
These challenges can be overcome so attorneys can increase conversions. Here are strategies for streamlining mass tort case administration and generating more leads as a result. 
Increase social media ads to attract new clients
Not every customer who has purchased a defective product or been the victim of poor service will know they have a case. Injury attorneys must invest in social media advertising to attract potential claimants. Primary legal lead generation on social media tends to occur on LinkedIn and Facebook, with varying degrees of success. ² Both platforms allow ad creators to select custom audiences. The ability to target specific audiences can be helpful when marketing legal services for mass tort cases. You can also run social media campaigns to generate brand awareness and even solicit reviews. 
Invest in PPC lead-generation tactics
It is recommended that mass tort attorneys invest marketing dollars into Google Adwords, Display Network and business-to-business directory sites. In addition, injury attorneys should explore lead generation via affiliations and their marketing efforts. Adopting a robust PPC strategy that expands beyond Adwords and reviewing other forms of lead sources, including premium placements, industry awards and review sites can be critical opportunities.  
Outsource receptionist and intake services to an experienced legal answering center
Eliminate internal and external communication challenges that arise in mass tort case administration with an answering service. Internal staff members can focus on other critical matters and discovery aspects while experienced legal receptionists manage high call volumes. When attorneys partner with a legal answering and intake service like Alert Communications, they save time and labor costs while increasing conversion rates by 25%.  
Not only does an answering service mean calls are answered every time, but Alert Communications answers calls within three rings. By outsourcing answering and legal intake questionnaire services to our professionals, you can increase revenue, stay organized and reallocate internal resources. Eliminating communication barriers by expanding resources can generate more leads and help you get more retainers signed.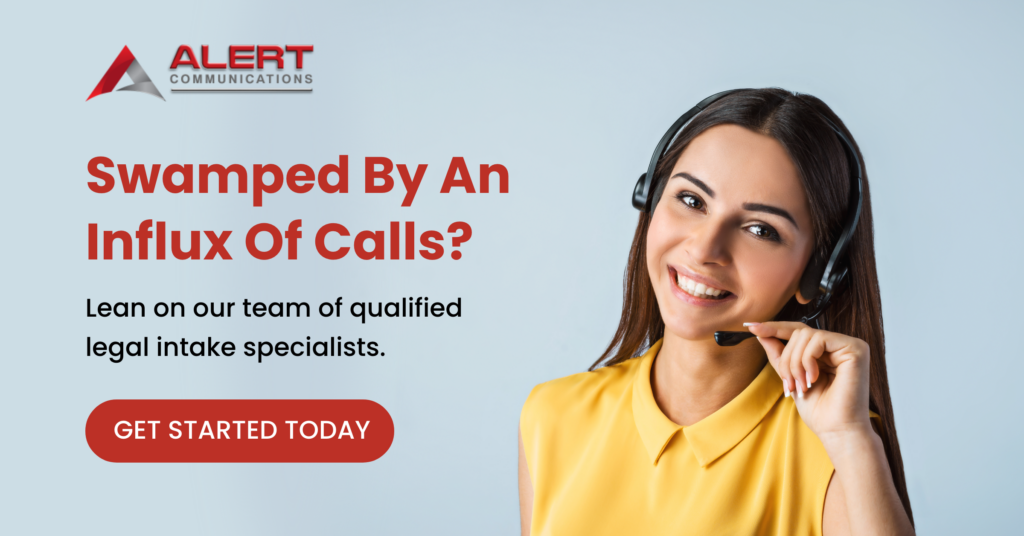 Partner with Alert Communications for an experienced mass tort answering service
With Digital Questionnaire Services, there is no need to manually enter and follow up with questionnaire responses from clients. Our legal receptionists are trained to guide clients through questionnaires in mass tort cases. Our follow-up process is designed to reduce client fall-off rates and get you signed contracts faster. Learn more about our 24/7 legal answering service by submitting our contact form or calling 800-211-4563. 
Source
JD Supra.

Mass Tort Transformation Opportunities: Where to Begin?

 
https://www.jdsupra.com/legalnews/mass-tort-transformation-opportunities-6947701/  
JD Supra.

Lead Generation for Lawyers: The Best Campaigns for Every Channel.

 
https://www.jdsupra.com/legalnews/lead-generation-for-lawyers-the-best-5316124/