Digital call services make a difference in mass tort litigation
Virtual receptionists are not just for big businesses. In fact, small to medium-sized law firms have been taking advantage of digital assistance for years. This is especially true for injury law firms. According to a recent article published in the American Bar Association journal, a virtual receptionist service for lawyers is one of the best ways to manage client intake in mass tort and class action cases.1
Here are two benefits of outsourcing for virtual receptionists and how they improve conversion rates and return on investment.
Virtual receptionists spearhead client communication and retainer agreements
Communication between a legal team and a client is crucial to establishing trust and securing brand loyalty. Most of the communication between legal teams and clients has gone digital. While mailing documents is still common, more time-sensitive matters are being handled online and via email.
One benefit of the digital boom in the legal industry is the ability facilitate with retainers and document deliveries. Alert Communications provides 24/7 e-retainer executions where our virtual receptionists walk clients through the document and provide follow-ups. Outsourcing retainer services saves the legal team and client valuable time they could be using to gather evidence.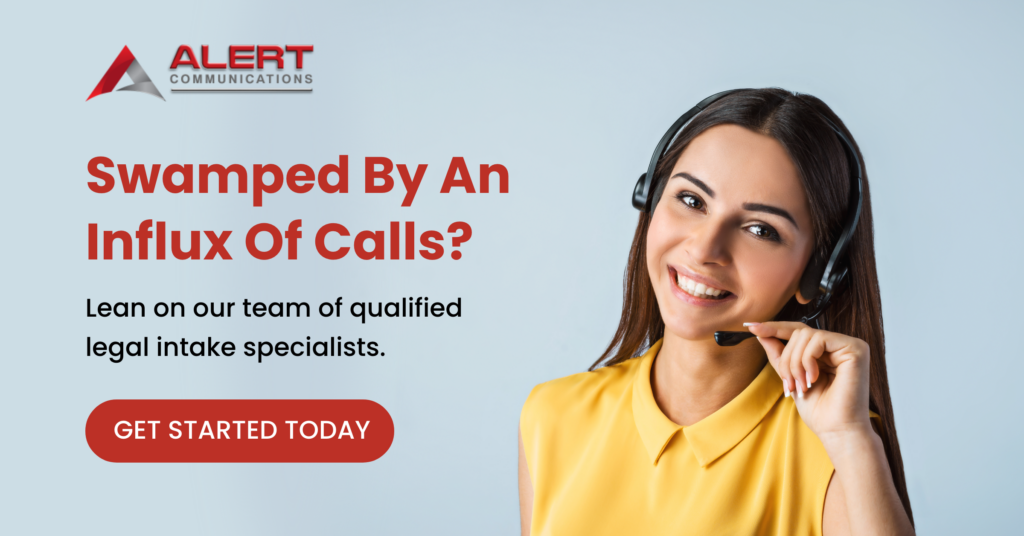 24/7 coverage and live chat services increase the return on investment
One benefit of hiring a call answering service is maximizing the return on investment by offering 24/7 virtual receptionists. Class action suits and mass tort cases result in the firm experiencing high call volume. With small to medium-sized law firms, they may not have the staff to answer calls but also may not require the necessity of a longtime, full-time employee. Expanded availability means more calls are being answered and leads are converted without hiring full-time, permanent staff members.
Another way to increase the return on investment is by hiring a team that provides online chat services and appointment scheduling. This gives potential clients easy access to your firm at a time that works for them. At Alert Communications, our virtual team can help law firms fulfill all these needs.
Alert Communications provides law firms with a virtual receptionist and call answering services
Mass tort litigation can be complex and multi-dimensional. Simplifying and centralizing the intake process will improve your relationship with clients and return on investment. Not only do we offer 24/7 virtual receptionist services in English and Spanish, we also assist with outbound call services. We will utilize the lists you provide and contact individuals on your behalf.
Get in touch
Hire a communications company that focuses exclusively on helping law firms navigate mass tort cases.  Contact us at 800-756-3080 or send us an email online to learn more.
ABA Journal. Take one thing off your plate with virtual receptionists.
https://www.abajournal.com/columns/article/take-one-thing-off-your-plate-with-virtual-receptionists