Our Virtual Receptionists Answer Mass Tort Calls 24/7/365. Here's What's On The Horizon.
At Alert Communications, our virtual receptionists take mass tort calls 24 hours a day, 7 days a week. On every call, our intake specialists gather critical data so we can predict industry trends. Here's what attorneys can expect to see in 2023 and how partnering with a virtual receptionist service can increase mass tort conversions.
Call Answering Service Data Can Identify and Predict Mass Tort Trends
The following mass tort cases will be on the rise in 2023.
Tylenol and Autism / ADHD
Recent studies have determined a link between Tylenol usage to ADHD and Autism. The findings show that pregnant women who take Tylenol increase the risk of their child developing either of these conditions. Lawsuits are currently underway against major retailers such as CVS Pharmacy. Our data and research support that mass tort lawsuits involving Tylenol and Autism will increase substantially.
Gardasil HPV Vaccine
There will be an increased need for mass tort representation following recent findings on Gardasil. Gardasil is a vaccine developed by Merck & Co. to prevent Human Papilomvirus (HPV). However, plaintiffs in recent lawsuits allege that Gardasil causes POTS, fibromyalgia, chronic fatigue syndrome and additional autoimmune disorders1. There is a class action MDL that has consolidated the federal lawsuits. To capture every lead related to the HPV vaccine, legal teams should evaluate their current phone answering services to ensure their needs will be met.
Hair Relaxers and Straighteners
New studies uncovered that the formaldehyde found in hair relaxers can increase the risk of ovarian and breast cancer. As a result, mass tort litigation surrounding hair relaxers, Brazilian blowouts and other hair straightening products have grown exponentially. Hair relaxers are widely popular, and the number of victims is not yet known. It is best to rely on a virtual answering service to gather accurate data, schedule appointments and more to manage any amount of calls.
Water Contamination At Camp Lejeune
Camp Lejeune is at the forefront of mass tort attorneys' minds. Camp Lejeune is a Marine Corps base in North Carolina. The drinking water has contained cariogenic toxins since WWII. Until August, former residents of North Carolina were unable to pursue claims due to a specific North Carolina statute. In August of this year, however, the president signed into law the Camp Lejeune Justice Act (CLJA). The act ensures that victims can file mass tort lawsuits. Legal teams can still get involved in the proceedings and take on new clients. Our virtual legal receptionists are available 24/7, 365 days a year to field mass tort calls related to Camp Lejeune water containment.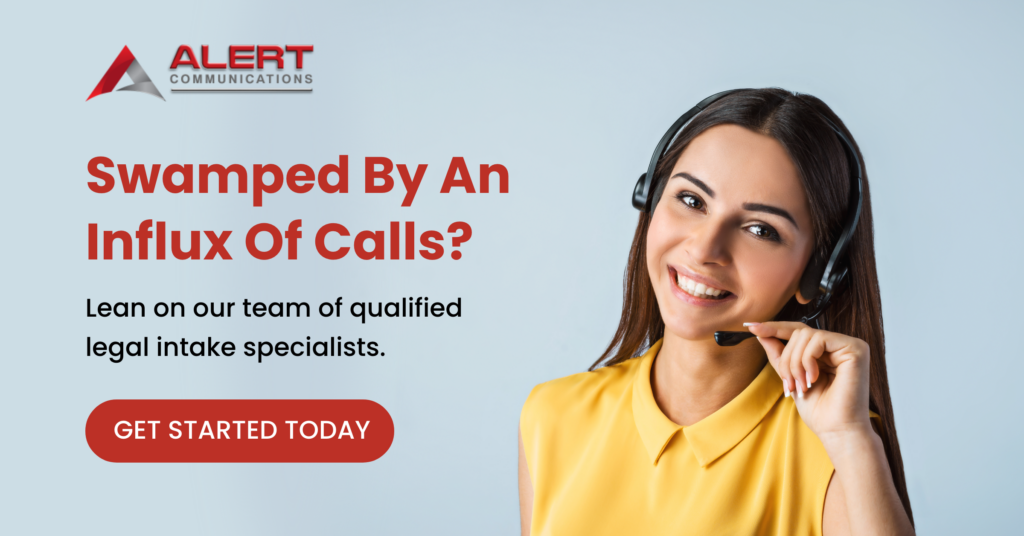 An Answering Service Company That Helps Close Mass Tort Cases
Attorneys across the country rely on our team of legal intake specialists to convert high-volume leads at an expert level. Our team at Alert Communications provides customized class action campaign services with around-the-clock availability via phone, text and live chat. In fact, our intake specialists respond to online leads in 2 to 5 minutes and calls in four rings or less ensuring faster conversions. Our team moves quickly from contact to contract, documenting and tracking vital data.
Partner With Alert Communications For Mass Tort And Class Action Assistance
We want to position you for success in 2023 for mass tort cases. We are here to help any time of day. Get in touch to learn more about our law firm answering services and how we can help your business. Call 800-211-4563 or complete our form online to learn more.
Sources:
Lawsuit Information Center. "Mass Torts to Watch in 2023."
https://www.lawsuit-information-center.com/mass-torts-2022.html