Should You Hire A Virtual Receptionist?
Call answering services are transforming how lawyers help clients and manage their practices. Lawyers from small and large firms across the country depend on remote teams to facilitate communication and book appointments.
Here are four signs your legal team could benefit from hiring a virtual receptionist.
You are missing calls and valuable leads
Missing out on leads means less money in your pocket. One way to determine if you are missing out on leads is by taking a deeper dive into your call analytics. Does the data show high drop-off rates and long wait times? Are callers trying to contact you after hours? Are calls going unanswered during business hours? If any of these are true, you should seek out opportunities to increase your return on investment.  Consider outsourcing legal receptionist services to capture every lead. Alert Communications provides remote receptionists who are available any time of day, including after hours.
You consistently see data-entry errors in appointment bookings
Simple data entry errors can signal big organizational problems. When case information is entered incorrectly, it can break down communication, diminish trust between you and your client and cost you valuable time. One way to minimize the mistakes being made is by hiring receptionists who are experts in the field. Our call-answering experts are detail-oriented and trained to schedule appointments with a high accuracy rate. Standardizing your intake process with a remote team can result in fewer data-entry errors and leave your clients feeling confident in their decision to hire you.
You are experiencing a staffing shortage
Are you having trouble attracting and retaining talent? If you are experiencing a staffing shortage, your team is likely overworked. When staff is overworked, you may see an increase in mistakes, missed calls and job dissatisfaction.  A virtual receptionist allows staff members to focus on more critical operations, meaning fewer mistakes and frustration.
Hiring a remote team also ensures you are prepared for the unexpected. According to an article published in Minnesota Law & Politics, one reason law firms are fragile environments and "fall into trouble when key clients grow and demand more services than the firm can provide."1 Since there is no way to predict when this will occur, having a staffing augmentation solution in place such as a virtual receptionist could mean the difference between shutting your doors or expanding greatly.
Intake documents are disorganized and hard to navigate
Disorganization can cost you valuable time and money. If your team struggles to stay organized from the onset, it could be time to standardize the intake process. Prioritizing file organization can improve client relationships and lead to increased productivity. Staying organized ensures there is a seamless data transfer process that valuable information is easily accessible.  It would help if you also moved towards eliminating paper documents to reduce the possibility of documents being lost or destroyed.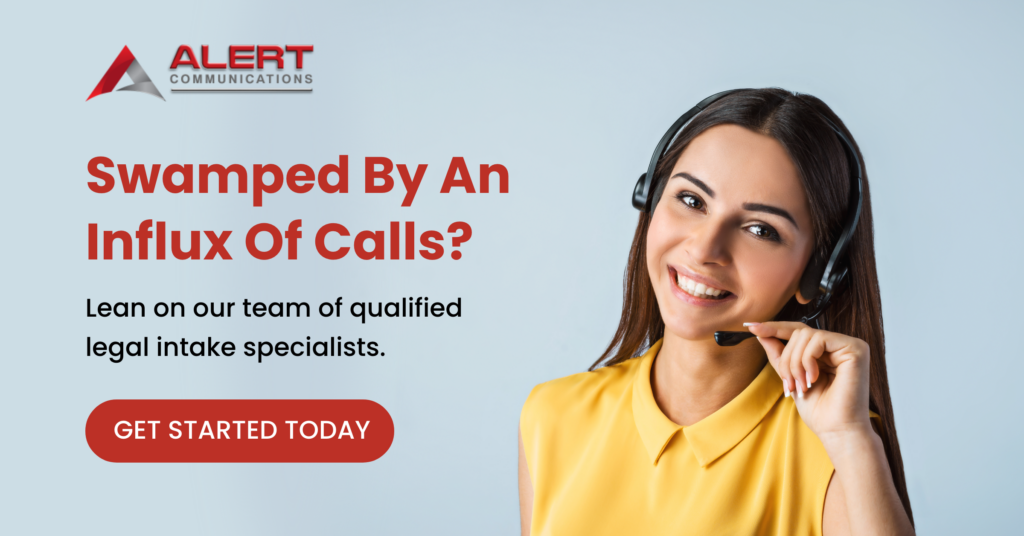 Outsource staffing for your law firm with Alert Communications
Our virtual assistants are experts in the field, providing customized receptionist coverage. We support small to large law firms with live transfer and call routing, appointment scheduling, client intake services and more. Our virtual call-answering service also includes bilingual assistants who communicate in both English and Spanish. With direct integration into your existing tools, we can book appointments on your behalf, take messages and get contracts signed.   We offer services via call, text and live chat.
Learn more about our law firm virtual assistants today
Countless legal teams rely on our call-answering services, which may include some of your competitors. Call 800-211-4563 today or contact us online to get more information on how we can help your law firm reduce missed phone calls and capture every lead.
Sources:
Minnesota Law & Politics. Signs Your Law Firm Is Failing.
https://www.maxfieldpeterson.com/wp-content/uploads/2017/01/Signs-Your-Law-Firm-is-Failing.pdf