Word of mouth can prove an incredibly valuable way for your law firm to reach more customers. 92% of worldwide customers reported that they trusted recommendations from friends and family more than any other form of advertising.
How can your services earn stellar word-of-mouth reviews? By focusing on improving the attorney client relationship. 
When your clients appreciate working with you as much as they appreciate the service you provide, it gives them one more reason to recommend your firm to friends and family and generates trust within your network that fosters profit-driving conversions.
To learn how to improve the attorney client relationship, let's explore three essential elements to incorporate into your practice. 
#1 Set Clear Expectations
On the surface, different clients may seem to want a myriad of different things. However, much of what clients want boils down to wanting a trustworthy, competent lawyer who can: 
Explain the client's options

Help the client choose an appropriate path forward 

Deliver the best possible results, given the path the client selected
But before a successful attorney client relationship can grow, it helps to set clear expectations for the client.
Picture this: One person shows up for a date hoping for a long-term relationship, while the other eagerly anticipates a casual fling. They're doomed to disappointment from the start because their expectations weren't communicated from the beginning. 
Taking the time to clarify exactly what a new client can expect from working with you sets a strong foundation for a positive attorney client relationship. This can prove especially helpful if the client has never hired an attorney and is unsure of price points, the legal details surrounding their case, and the documents they'll need to obtain. 
While the exact expectations you set will vary based on your practice, services, and chosen professional approach, it can help to start with the basics.
For example, you should convey the following to your client:
The legal logistics surrounding the case

Details surrounding your services

When they can expect communication

Your hours of availability

Most likely outcomes

Price points or fees

Documents the clients must prepare
Explaining what support you specifically offer regarding representation can help align the expectations of all parties involved.
#2 Practice Empathy
Similar to a wedding planner, many attorneys help their clients navigate an important, emotional, and occasionally stressful event in their life. While you may deal with these events every day, it's important to remember that the client is often experiencing this situation for the first time.
That can feel overwhelming and even isolating.
What do clients want from a law firm? Empathy.
Taking time to show your client that you're here to provide them with support and resources can help improve the attorney client relationship. 
#3 Understand that the Client Lawyer Relationship Starts Before The Client Even Meets You
A restaurant with a brilliant chef may still experience a low number of diners if its exterior looks run down or it received negative reviews online.
In the same way, your law firm must make a good first impression to obtain clients. This could include your website, your firm's communication practices, and the customer service team that represents you.
Website Design
Your website may function as the first touch-point a potential client has with your law firm. A clear, easy-to-read website that's both pleasant to look at and intuitive to navigate can help to establish your law firm as a trustworthy and capable enterprise.
To make your website a client-friendly hub, consider:
Using responsive web design

– Responsive web design ensures that potential clients can navigate your website and find exactly what they're searching for easily, whether they're on a smartphone or a desktop computer.

Adding a FAQ section

– Consider adding an FAQ section to address common client inquiries. An FAQ section can help potential clients whose needs don't match your services move on without wasting your time. More importantly, it can help establish your firm's expertise. 

Clear contact info

– Most importantly, make sure your website clearly states how potential clients can contact you. Consider listing your contact information at the base of your website and adding a "Contact Us" page.
A welcoming website centers on the clients' needs. What would they most want to know? What types of resources will help them take the wisest step forward?
When you design your website to make a potential client's search for legal support as easy as possible, you establish yourself as a trusted confidant, before the client even walks through your doors. 
Communication Caliber
One of the most important aspects of attorney client privilege is communication. Clients want to feel secure knowing any disclosure and confidential information exchanged should be relayed in a confidential communication channel. 
Effective client communication doesn't stop at your website. To promote client satisfaction every time they interact with your firm, consider investing in these communication pillars:
Accessibility

– Your clients may not have prior experience with your area of law, or perhaps English is their second language. To support as many clients as possible, try to use clear, direct language when communicating. 

Timeliness

– Business experts recommend responding to customers as quickly as possible to improve customer satisfaction.

 

Accuracy

– Above all else, communication with an existing client must be accurate, whether that communication happens via email, phone, or in person. If an inexperienced staff member provides an incorrect answer to a client's question, the client will likely lose some trust in the firm. Ensuring that every person who interacts with clients, from secretary to attorney, provides flawless information can help you build trust with the client from the start.
When a client finds it both comfortable and useful to communicate with your law practice, they're more likely to start their relationship with your firm on the right foot.
Receptionist
Speaking to a human—instead of an answering machine or a robotic automated attendant—can improve how a client feels about a law firm they interact with. In fact, talking to a person can make such a fundamental difference that customer-service advocates in Spain recently introduced a bill to require large companies to promptly answer every customer phone call.
Hiring a capable receptionist or a legal call service could increase client satisfaction. Speaking with a calm, competent receptionist who quickly schedules an appointment with the appropriate attorney can help your clients feel like your law firm will support them through the legal process.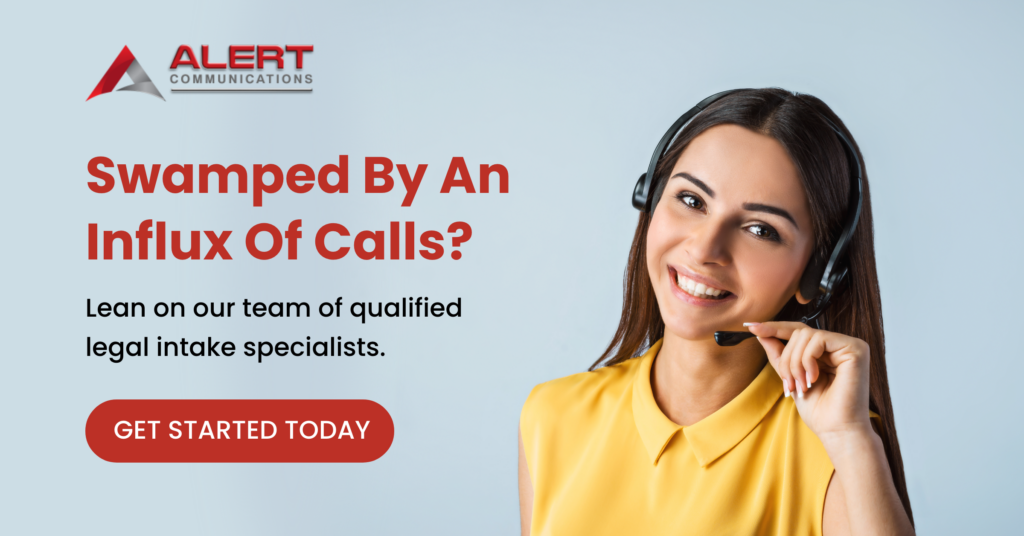 Support Your Attorneys (and Your Clients) with Legal Answering Service
A legal answering service primarily supports the attorney client relationship in two ways. 
First, they take a portion of the organizational, customer-service work off your plate, allowing you to focus on other parts of the attorney client relationship, like providing top-tier legal customer service. 
Second, a respected legal answering service can provide the client with exceptional customer service, even when your firm isn't open.
Alert's Legal Answering Service builds positive relationships with clients by providing:
A fast and knowledgeable response

– Experienced specialists can deftly represent your firm while directing new and existing clients to the appropriate attorney. Importantly, customers rate knowledgeable employees as the third most important factor in a positive customer experience.

24-hour availability

– A  24-hour legal service means your firm never misses a call, providing your clients with around-the-clock human support. We ensure your client has a positive experience even when you're not available to pick up the phone.

Spanish language support

– We can help you reach more clients by supporting your Spanish-speaking clients, as well as those clients who speak English.

Appointment scheduling and call transfers

– To help you maximize your time, we can book client appointments for you and smoothly transfer any call directly to the appropriate person.
When selecting a legal answering service, ensure that it strengthens your attorney client relationships through appointment scheduling, phone support, and call routing.
An Improved Attorney Client Relationship Starts with Alert
When building your firm's attorney client relationships, it's essential that you set clear expectations, empathize with each case, and provide valuable resources, such as intuitive website design and 24/7 communication through a legal answering service. 
For a legal answering service that answers every call, look to Alert. 
Founded in 1965, we support law firms and legal marketing agencies across the country. Whether you hire us to take your calls 24/7 or to support your existing team during overflow or off-hours, we help you build positive client attorney relationships. 
Not only do we reduce missed calls, but we also screen potential clients to help determine whether or not their legal needs make them an appropriate fit for your firm. When they are, we guide the customer through the next steps and convert them to paying clients.
Reaching out for legal help support can feel intimidating, but our highly-trained, multilingual specialists act as the first point of client contact to provide the empathy and resources they need.
At Alert, we provide the support you need to grow revenue—and grow a deeper connection with your clients. Schedule a call or get a quote today.
Sources: 
Advances in Health Sciences Education. The effect of surgeon empathy and emotional intelligence on patient satisfaction. https://link.springer.com/article/10.1007/s10459-011-9278-3  
American Bar Association. Model Rules of Professional Conduct: Preamble & Scope. https://www.americanbar.org/groups/professional_responsibility/publications/model_rules_of_professional_conduct/model_rules_of_professional_conduct_preamble_scope/ 
AP News. Can I talk to a human? Spain presents customer service bill. https://apnews.com/article/technology-politics-trending-news-a79e87eda69c0fcd00b3ce03f85817f9  
Forbes. How To Create A Memorable Brand Moment Through Customer Service. https://www.forbes.com/sites/forbescommunicationscouncil/2022/06/10/how-to-create-a-memorable-brand-moment-through-customer-service/?sh=33b3fe2e5853